Covid-19 studio safety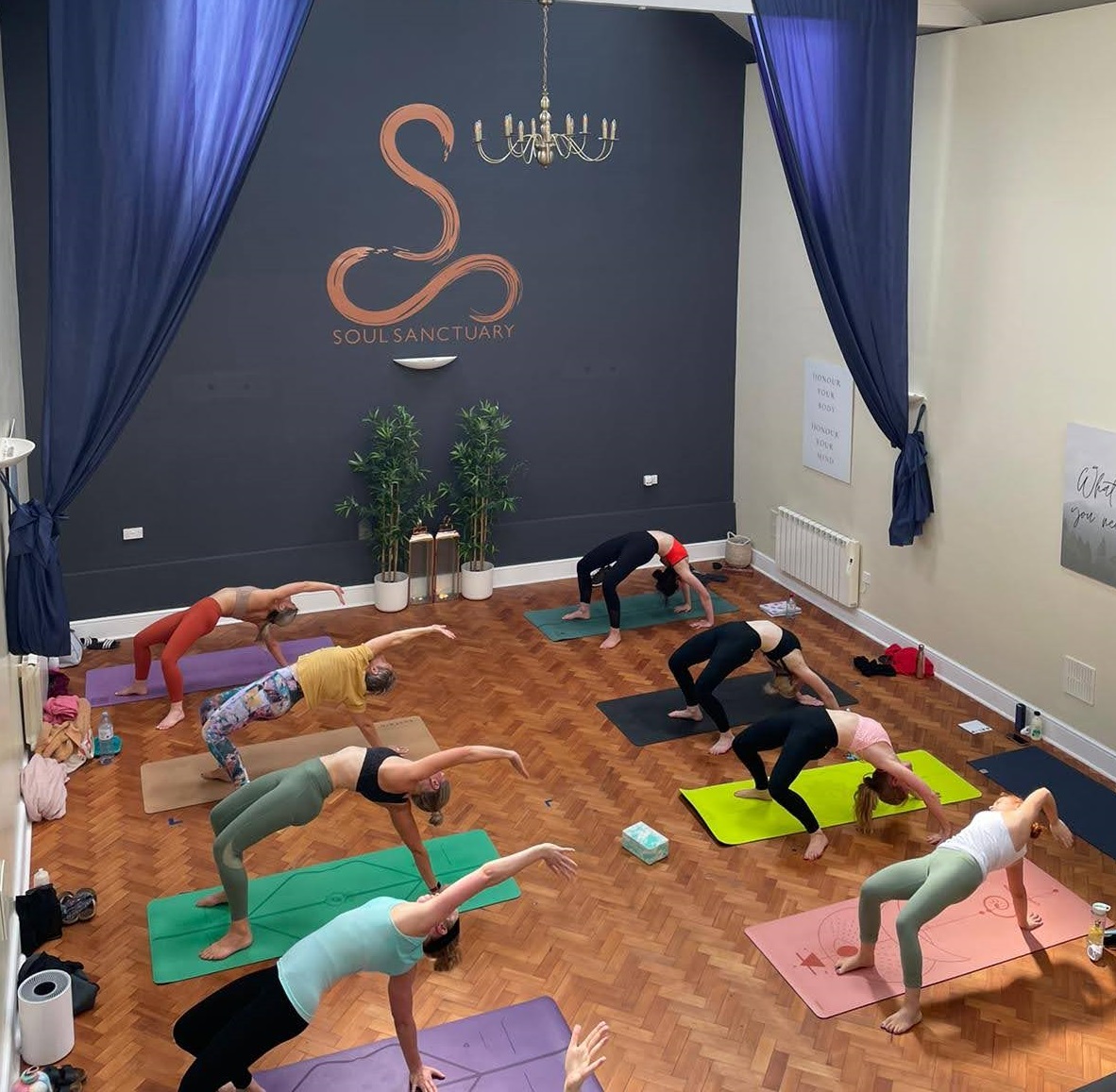 Covid measures Soul Sanctuary will be taking at the studio:
The safety of our members and staff is of the upmost importance to us. Please familiarise yourself with our studio policies and procedures below. We can't wait to see you back in the studio, and hope you enjoy coming back to the sanctuary of your yoga practice.
All members must sign health declaration form confirming that they are free of any symptoms, if not, agreeing not to attend the studio for 14 days (this form is also sent to you in every class confirmation automated email). This must be completed before your first visit to the studio since lockdown, or clients will not be allowed into the studio.
All clients must bring their own mat, and any other props to practice with. We cannot provide equipment at this time.
Hand sanitiser and antibacterial spray around the studio for regular use.
All touch points sanitised every hour.
Government guidelines social distancing between mats.
Class numbers capped to ensure social distancing.
(Please note due to limited class capacity we have a late cancellation charge of £5, if you cancel class within 6 hours or do not show up. There is no late cancel charge to classes attended online).
All classes live streamed so all can still 'attend'.
Students must provide their own yoga mats & props (not allowed to practice if not).
Doors open to allow for air flow (heating off in studio, so bring layers).
Reduced belongings brought into the studio to avoid locker sharing.
Socks are kept on after removing shoes, until the student is on their mat.
No contact assists from your teacher during class or moving around the room.
One-way walking systems arriving early before class to ensure safe social distancing on entry & exit.
Classes outside when possible.
30 minute intervals between classes.
Communal area closed, toilet use only, please use other Spetchley toilets to avoid queues in corridors.
Staggered entry and exit of students, marshalled by teacher, by row.
NB parking in the main garden car park when gardens open, Wed-Sun 10.30- 17.00 (teachers /disability badge holders only to park in the stable yard by the studio always).
Things to remember:
Sign the health declaration form before your first class at the studio.
Bring your own equipment (mats, blocks, cushions or bolsters, blankets) we will not have any equipment available for use so you will not be able to practice if you don't bring your own mat, so please bring what you need.
We only have 1 toilet, the Granary (new tea room cafe) toilets may be open but best to go beforehand.
Check parking location – gardens open Wednesday to Sunday 10.30 – 17.00 April-October. When gardens are open students must park in the main garden car park and walk through gardens to the studio. When the gardens are closed you can park in the Learning Centre gravel carpak immediately on the left as you enter white gates from the main road.
Coming To Class – The Process:
Arrive in the appropriate car park 20 mins before class starts.
Leave any belongings you don't need in the car (safely out of sight).
If parking in the garden car park, walk through white gate on the left, do not queue for the gardens (give yourself time and bring brolly if required). Walk through the garden to the studio – enjoy the gorgeous settings of the gardens!
Wait in queue 1 meter apart in the courtyard until the teacher checks you into the building.
ENSURE YOU HAVE COMPLETED HEALTH DECLARATION E-FORM HERE (this is also sent to you in every class confirmation automated email).
Antibac hands before entering the studio, pump on the left of the studio door.
If you need the loo please queue backwards towards the stairs (try to go before you arrive 😀 or use cafe toilets on the way in / out to avoid crowding in the corridor).
Place belongings & shoes in locker spaces as usual.
Wear socks to & from your mat, take socks off on your mat.
Place your mat down in the next designated area, bottom left corner in line with stickers on the floor.
Keep props/ water close to your mat to not infringe into others' space
Enjoy the class back in the wonderful Spetchley studio!
At the end of class, the teacher will allow you to come around after a wonderful Savasana, and will check in with those online before ending the online streaming meeting.
End of class, do not use mat wipes, please clean your own mat at home to avoid queues in the studio – wait for the teacher to say you can leave, row by row, single file.
Please ensure you take all of your belongings, we are not able to keep lost property.
Please use hand sanitizer on the way out.
If the gardens are open feel free to head to the Granary for a cup of tea or cake in the lovely garden settings.